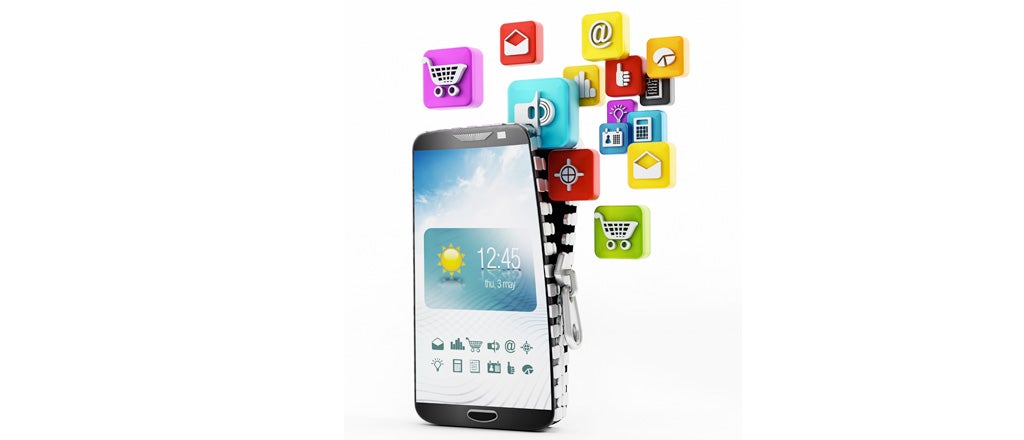 The rise of mobile is accelerating faster than ever imagined. In many places in the world it is the only option to access the web. One big result is a leveling of the playing field for brand-advertisers large and small. Brands are getting cheap access to a unique reach unheard of with TV advertising. In this opinion piece, Aprajita Jain, a brand marketing evangelist at Google, and Gopi Kallayil, Google's chief evangelist for brand solutions, outline the implications of this tectonic change.

You can also read about Kallayil's new book
Internet to the Inner-Net
in our recent interview: "Connect with Your 'Inner-net': Living and Working with Purpose."
After a three-year hiatus, Adele released her gorgeous, sepia-toned single "Hello" on YouTube on Oct. 23. Within a day, the video was watched 27.7 million times, and as of Dec. 6 it had notched up more than 602 million views. If each view were the equivalent of a person, the count would be nearly twice the population of the U.S., taking over the country's spot as the third most populous on earth. More than half of those views came from mobile. Sales were also huge. More than 1.1 million downloads sold in the first seven days of the single's release, pulverizing all previous records.
The rise of mobile is accelerating faster than we ever imagined. In fact, in many places in the world, mobile is and will be the only option to access the web, because of price and infrastructure. Even in developed countries, we see a rise in cord-cutters and cord-shavers among traditional audiences. In 2014, 8.2% of cable subscribers ditched pay TV, and 45.2% substantially reduced their satellite and cable TV services. Breaking the shackles of time, space, and availability, we have begun to consume content on our mobile phones. Next time you're at a Starbucks or standing in the airport security line, take a good look at what people are doing. You'll see many eyeballs engaged in deep prayer with their smartphones. We have evolved into "phono-sapiens."
Let's get a sense of the scope of mobile by looking at some mobile-adoption statistics. In February 2015, we reached a unique inflection point, where the number of mobile devices — 7.2 billion — exceeded the number of humans on the planet. And we know that humans are using their devices … a lot. For more than half the Internet population, a mobile device is the only way to connect to the Internet, and a primary usage is watching videos. Each month, six billion hours of video are watched on YouTube, or three hours per Internet user. More than half of those hours are on mobile.
Beside this monumental strength in numbers, individuals are also a lot mightier than they used to be when it comes to mobile content. Mobile has shifted power to individual consumers, giving us freedom, independence and flexibility. We can choose when we watch, where we watch, what we watch and how we watch.
When mobile phones first became popular in the mid-to-late 1990s, we used them to make calls. Today, we use them to run our lives. They function as our personal assistants. An average human will pull out his or her mobile phone a whopping 150 times a day for a variety of activities — that's once every 9.6 minutes. This device has become more important to us than our wallet and keys; we order milk, confirm our flights, tell our friends we're at the beach, check in with our children or parents or spouses — all online. We're moving from going online to living online.
As brands try to keep up with how consumers are changing … they're beginning to understand that mobile is no longer simply a disruptive technology — it's a behavior.



A few years ago, mobile technology and its widespread use started disrupting many industries. Uber disrupted transportation; Airbnb, the hotel industry; and YouTube, media and entertainment. This change meant new ways of doing business for companies, new ways of living their lives for consumers and new ways of advertising to these consumers for brands.
As brands try to keep up with how consumers are changing when, where and what they access on their phones, they're beginning to understand that mobile is no longer simply a disruptive technology — it's a behavior  . This shift from TV to digital to mobile marketing provides unique opportunities for brands. Through mobile phones, brands not only know where their consumers are and what websites they visit, but also who consumers talk to, and, in some cases, even statistics about their health.
The smartest brands are making big strides to be the first movers and set an example.
Delighting the Consumer with More Than Just Coffee
For the average consumer, Starbucks is a coffee company. But if you look behind the scenes, they're far more than that. They're transforming into a digital company that happens to monetize through coffee. In a world where people have no time to waste, Starbucks realized the need to make their consumers' coffee-buying experience as seamless as possible through a mobile app. The app lets consumers make their daily purchase with one tap, shows them how to get to their closest Starbucks store on a map, and takes care of the payment through pre-purchased Starbucks mobile credit by the time they walk into the store to pick up their order.
It's a magical experience because the barista knows consumers' names, what they ordered, and what they look like. A win-win-win for everyone: Customers get their order without having to wait in line. Starbucks increases its efficiency. And according to Starbucks' 2015 Q3 report, mobile transactions accounted for 20% of in-store sales (twice what it was two years earlier), and foot traffic increased by 4%.
Each time it rained, the brewery gave away 1,000 pints. Consumers using the app had four days to claim their free pint. Then the app also showed them the closest pubs….
Influencing Consumer Behavior by Creating Associations
Mobile branding creativity has also spilled over into the alcohol industry. First, Budweiser (Ireland) released their Ice Cold Index mobile app, which alerted consumers to reduced summer beer prices that tracked rising temperatures — the hotter the weather, the lower the prices.
In a parody of the Budweiser promotion, Murphy's, an Irish beer manufacturer, designed an app called When It Rains It Pours, that alerted consumers to a free pint of beer they could claim whenever it rained in Cork. Each time it rained, the brewery gave away 1,000 pints. Consumers using the app had four days to claim their free pint. Then the app also showed them the closest pubs in County Cork to redeem their offer. Once in the door, they often stayed on to finish a second and a third (after which, presumably, the possibilities were endless).
'Gamifying' Access to Utility With the Brand Front and Center
The only thing that's almost more important than water and air to millennials is access to the Internet — and that access feels even better if it's free. Scrabble created a very clever
mobile brand experience
right as people entered the bliss of free mobile Internet. Scrabble set up Wi-Fi hotspots in areas of Paris that don't normally have Wi-Fi connections. To connect to these special Scrabble Wi-Fi networks, people had to play Scrabble. They spelled a word, the app converted the word to points, and then converted those points to free Wi-Fi time. The more points, the more free Wi-Fi minutes. If players shared on social media, their free time doubled.
With mobile advertising, brands are getting cheap access to a unique reach unheard of with TV advertising.
In just two weeks, people created more than 6,000 words and Scrabble gave away more than 110,000 minutes of free Wi-Fi. Scrabble rewarded those who spelled words properly, refreshingly counter-intuitive in a world where text messaging is changing the way people spell. This is a fun and playful campaign that shows how a brand can encourage people to use its product in a smart and entertaining way in exchange for something useful.
Making Participation Easy and Enjoyable
Even industries beyond food and beverage and retail are putting on their thinking caps to be part of the mobile movement. Who would have thought that something as tiresome as your taxes could be done using your mobile phone? Or that an entire country could use ubiquitous mobile phones to gamify the experience of running a town on their tiny little mobile computers?
The Australian Bureau of Statistics wanted to release its latest census data, but it knew that to most consumers the reports would look like indigestible tables of data, thereby hindering policy and planning decisions. To make the information contextually relevant to the common citizen, the Census Bureau turned the data into a game. As they played, people could see the impact of certain decisions on their neighborhood, which "players" from their community would support their decision, and so on. More than 300 projects were discussed in these mobile games, and players could get a glimpse of the potential ramifications of their decisions. This is one of the best mobile branding examples of an essential, but hard-to-grasp, part of people's everyday lives being made cheerfully simple to engage with.
The bottom line is that mobile brand advertising is in many ways creating an even playing field for brand-advertisers large and small. Brands are getting cheap access to a unique reach unheard of with TV advertising. This reach is intrinsically global, allowing brands to display their wares to people who would otherwise never have heard of them. Mobile not only lets consumers choose when, where, what and how they watch content; it also gives brands the opportunity to "hyper-target" their consumers in the moment, place and context of greatest relevance, so that consumers will embrace the brand in question and not think of it as an unwelcome intrusion into their private mobile lives.